William Adams Obituary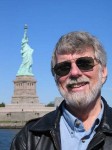 August 13, 1943
-
February 11, 2018
Born in Ft Sill
Resided in

Homer

,

Alaska
Obituary
The world has lost one of its best story tellers and an exceptional man. Charming, vibrant, funny, and fully-committed to his every endeavor, Bill Adams lived life to its fullest and yet always made time for everybody who ever loved and needed him. This is one of the things his children, Jocelyn and Laura, so cherished about having him as their father.

He would always stop what he was doing to answer their questions and then take the next step to be sure they understood how the thing they'd asked about really worked. Further, as he did with so many other people that he taught or coached, he imbued his children with the curiosity to fully explore the things that interested them. He encouraged their pursuits and passions, and made them feel deeply loved. He was a wonderful teacher and father.

Although his first marriage to Cheryl Craven did not pass the test of time, Adams proved to be a thoughtful and caring former husband. He worked closely with Cheryl to raise their children without the conflict that so often characterizes divorce. In fact, showing his exceptionalism once again, Adams always remembered Cheryl on Mother's Day with roses as well as gifts on her birthday and at Christmas.

As the grandson of Joe Adams, a true Texas cowboy and cattle driver on the Goodnight Trail, Adams was quick to point out that when he was born on Aug. 13, 1943, during World War II, it was on the army post at Fort Sill, a federal reservation, not Oklahoma! The only son of the late Glenn Carl Adams (1894-1974) and the late Audrey Leah Kelley Adams (1911-1974), Adams spent his youth in Texas where he excelled academically and musically. He played first chair trombone in high school, and in a rare honor, as a freshman at Texas A&M. The latter caused him unceasing hazing at what was then a military college. He pursued his love of jazz through membership in the Dallas Jazz Ensemble and by attending Stan Kenton's summer camp. As Adams often said, he discovered wine, women, and scholastic probation, all in one semester after he transferred to the University of Texas at Austin.

Five years later, in 1968, with a Bachelor of Science in Electrical Engineering in hand as well as graduate study in nuclear engineering, Adams began his storied professional career as an electrical engineer. He soon found that although engineering satisfied his need to always know how things worked, it lacked the excitement and energy that he craved. The fast-paced and rapidly growing minicomputer industry beckoned. With Data General in Texas and California, he led his teams to one record achievement after another, retiring one of their most coveted sales awards by winning it four times in a row with an organization he had built. Along the way, he trained a new generation of managers and coached innumerable sales representatives to achieve more than they dreamed they could. One of the things that so attracted him to the high tech side of the computer industry was the opportunity to learn about the fields of endeavor that were putting these relatively new tools to work. For example, when he sold computers to Rockwell International to build the GPS system we now take so for granted, he delved into the technology that would make that system work. Interestingly, he sold the computers that are used to control the pipeline here in Alaska, two decades before ever thinking about living here.

After leaving Data General, Adams was sought by many computer industry start-ups. He joined Speech Systems Inc., a voice recognition company, as vice president of sales and marketing where he applied his creativity to help shape a market for this "bleeding edge" technology 30 years before any of us heard of Siri or Alexa. Graphics, multi-media and web software developer Macromedia next benefited from Adams' skill at taking new technology to market and fashioning important industry partnerships. Adams' last post in the high tech industry saw him as vice president of sales and marketing for Pixar, a company that now needs no introduction, but one that was at the time struggling for an identity. When Steve Jobs asked Adams to join him to build a sales and marketing team, it was Adams who convinced Steve to make the run time of RenderMan, photorealistic 3D rendering software, available to users at no charge. This led to RenderMan becoming the industry standard for 3D image processing and special effects. It was also Adams who helped put the partnership with Disney Studios together that resulted in so many wonderful animated movies. One of his happiest achievements at Pixar was earning a credit on Tin Toy, the first computer-generated animated short film to ever win an Academy Award — "A special thank you to Bill Adams."

On Independence Day, 1980, Adams married Brenda Crouthamel, in a "surprise wedding." Given their strongly independent personalities, the irony of this date was not lost on their many friends or the presiding minister. Nonetheless, they forged a strong partnership founded on respect, love, and devotion that lasted until his death 37 years later. Their shared interests and the enjoyment they found in each other's pursuits, successes, and simple companionship was obvious to all who knew them.

In 1991, Bill and Brenda decided to retire from the computer industry while still young. They shocked their friends when, after a five-day visit to Alaska, they returned to southern California and announced they were moving to Homer. There, Bill and Brenda lived a rich life filled with their deep and mutual love, and spiced with adventure, travel, fishing, and outdoor sports. It was also a time when Bill was able to pursue his love of history, reading deeply and broadly; his extensive library is packed with histories and biographies. He loved to fully explore an era of history studying all the important players and how their roles intersected. This broad and detailed understanding of the past informed his writings about the present. He shared his thoughts about politics and current trends with a large group of folks who looked forward to what he called his screeds. These writings were beautifully drawn, extensively researched and cited, and thoughtfully, often presciently, expressed.

Adams was one of those unique people who could hold the attention of a room full of people when he told a story. His passion for the story was often revealed by a quiver in his voice and a twinkle in his eye. He loved to read poetry by the fire, sit at the apex of a triangle with his big speakers blasting while listening to mid-century jazz and Dixieland, and cook a great meal for friends. Having studied cooking in Venice, under Marcella Hazan, northern Italian cuisine was his specialty. Beautiful things moved him whether it was nature, music, art or a play. He loved George Carlin's humor, Willie Nelson's music, and Monty Python's silliness. And he loved all of his dogs, each in their turn.

After a life filled with love and laughter, he died quietly late Sunday night, Feb. 11, 2018, in Anchorage, holding Brenda's hand and listening to Ella and Louie sing "You Can't Take That Away from Me." He is survived by his wife, Brenda Crouthamel Adams, daughters Laura Adams Woolley and Jocelyn Adams Eisenlohr, sons-in-law Mathew Woolley and Frederick Eisenlohr, and grandchildren Cameron Woolley, Renee Woolley, Emma Woolley, and Theodore Eisenlohr, as well as first wife and the girls' mother, Cheryl Craven.

At his request there will be no service, but those who'd like to make a donation in his memory, please consider his favorite charity, the Salvation Army.
Services
Funeral Home
Cremation Society of Alaska
7216 Lake Otis Parkway
Anchorage
,
AK
United States
99507