Rose Freer Obituary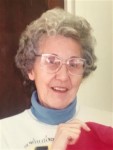 July 10, 2018
Born in McGrath, Minnesota
Resided in

Wasilla

,

Alaska
Obituary
Rose Elizabeth Freer of Wasilla, Alaska, passed away on Tuesday evening, July 10 2018, at the age of 94. A resident of Primrose Retirement Community of Wasilla, Rose was gently tended by caring facility staff and hospice and passed away surrounded by loving family.
Born in 1923 in McGrath, Minn., Rose is the daughter of Frank and Johanna Leitner, and the seventh of nine children: Margaret, Mike, Joe, Frank, Anne, Herman, George and Leo. She was raised on a dairy farm in Williams Township, Minn., and upon graduation from McGrath High School, became a maid and nanny to a local family. Seeking greater challenge, she became employed with Northwest Airlines from 1942 to 1944 as a sheet metal mechanic, installing brackets and equipment on World War II aircraft. Rose was a real life "Rosie the Riveter."
In 1950, her thirst for adventure lead her to Yellowstone National Park, where she worked first as a hotel maid, then later as a soda jerk in Yellowstone Lodge. A true "Geyser Goon," Rose soon attracted the attention of park ranger Robert Freer. Robert and Rose explored Yellowstone together, venturing into nearby Montana, where they were married on Oct. 16, 1954.
In 1956, Robert's employment led them to Greely, Colo., where Rose gave birth to their first child, David. Then in 1958, they moved to Cheyenne, Wyo., where Catherine was born. Their final move was in 1960, to Eagle River, Alaska, birthplace of Jeanne Kraus, at which time Rose firmly stated, "We're not moving anymore. I don't want any more children." Rose and Robert were married for 20 years and regrettably divorced in 1974.
Moving to Anchorage, Alaska, Rose attended the Alaska Business College, completed the Accounting Clerk CETA Program and in 1975, became a Clerk Typist III in the Department of Natural Resources. She rose in esteem among her colleagues as she organized department functions, participated in creek clean-ups and aluminum can drives, and volunteered as line crew support during wildfire season. Binoculars readily within reach, Rose often surveyed Anchorage from her upper-story office window, reporting local goose crossings and odd pedestrian behavior. Rose retired in 1995, despite the many objections of her boss and co-workers.
Upon retirement, Rose was free to hike the mountains she loved and cultivate her favorite hobby of wood carving. She became especially skilled with diamond willow, soon rising from student to teacher. Her creative works won several ribbons in the Alaska State Fair.
Rose is survived by her son, David Freer; daughters, Catherine (Jeff) Loffert and Jeanne Kraus; grandchildren, Alicia (William) Gates and Timothy (Niven) Krowe; great grandson, Cory Fowe; brother, Leo (Shirley) Leitner; along with many nieces and nephews. Rose is preceded in death by her ex-husband, Robert Lloyd Freer; brothers, Mike, Joe, Frank, Herman and George; and sisters, Margaret and Anne.
The family will hold a memorial service at a later date. Those who wish may donate in Rose's name to Catholic Social Services or Bean's Cafe.
To plant a tree in memory of Rose Freer, please visit our
Tribute Store
.
Services
To plant a tree in memory of Rose Freer, please visit our Tribute Store.
Funeral Home
Cremation Society of Alaska/MatSu
5050 Dunbar Dr
Wasilla
,
AK
US
99654