Robyn Schmitz Obituary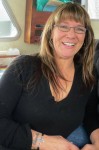 October 15, 1963
-
December 22, 2019
Born in Orange County, California
Resided in

Anchorage

,

Alaska
Obituary
Beloved Mother of 3, Robyn Schmitz (56) died on Dec. 22 2019 after battling a long-term illness that affected her neurological system and liver.
Fisherman Kenny Thomsen said his mother was "the most kind person" he knew. "She loved me, Jimmy and our sister and would have done anything for us. She had an incredible soul and was such a loving person in spite of having had a rough go of it."
Schmitz loved to smile, was friendly, and excelled at waiting tables, from the exclusive Two Bunch Palms Resort in Desert Hot Springs, CA, to the Lighthouse Restaurant in Haines, her daughter Chanelle Nieto said. "She had a servant's heart."
Robyn Schmitz was born on Oct. 15, 1963 to Elayne Blair and Ray Schmitz in Southern California. Her daughter was also born there in 1982. Robyn grew up in Huntington Beach and had a lifelong love of the ocean and sun. "She was an amazing mother! I believe she intentionally showered us kids with the love and affection she longed for as a child." Nieto says.
Casey Thomsen met Schmitz 35 years ago when he got out of the Navy. He was smitten by her beauty, strength, street smarts, and warm personality. "We could go into a big store in California, the kind with about 1,000 people, and when we left she'd know everybody. Robyn was so gorgeous, outgoing, and caring."
The couple moved to Utah, where his parents Blaine and Dawn Thomsen lived, and their sons Jimmy and Kenny were born in Logan. In the mid nineties the family and senior Thomsens moved to Haines AK and built neighboring homes.
Schmitz worked at several local restaurants and hotels, and trained her then teenage daughter at the Lighthouse one summer. "She'd run circles around me. She rarely wrote an order down and remembered everyone's names," not only regulars, Nieto said, but the people who had walked in off the cruise ships as well. "Her guests would leave as her friends, it was her gift."
Nieto said her mother was "at peace" when they last spoke about how quickly her illness was progressing. She willingly chose to remove her name from the transplant list when realizing the sacrifice her family would have to make post-op had she received a new liver. "She never wanted to burden anyone, in fact helping others carry their burdens brought her the most joy in life. I think that was her biggest challenge, allowing others to look after her when she'd rather be looking out for them," Nieto added.
Robyn was well cared for in her last days by a woman who was much like a second mother to her. She did so out of her home in Anchorage AK where Robyn would be near her specialists. "I often wonder what could have been had her illness not progressed and she furthered her education. She had such an empathetic heart and found fulfillment in caring for others, I think she would have made an incredible RN," Nieto said.
Robyn Schmitz is survived by her daughter and son-in law Chanelle and Gilbert Nieto of Murrieta CA.; her sons, Kenny and Jimmy Thomsen of Haines; grandson Roman Nieto; brother Eric Schmitz; stepsister Janna Fitzgerald, and an aunt Betty and cousin Linda in Palm Desert.
To plant a tree in memory of Robyn Schmitz, please visit our
Tribute Store
.
Photos

Show More Photos
Services
To plant a tree in memory of Robyn Schmitz, please visit our Tribute Store.
Funeral Home
Cremation Society of Alaska
1306 E 74th Avenue
Anchorage
,
AK
United States
99518