Rebecca Rawlinson Obituary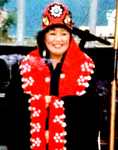 Becky
June 19, 1954
-
May 4, 2017
Born in Seattle, Washington
Resided in

Anchorage

,

AK
Obituary
Rebecca L Rawlinson, 62 passed away May 4, 2017 at Alaska Native Medical Center, Anchorage.
Services will be held 5 pm Tuesday, May 9, 2017 at Alaska Cook Inlet Funeral Services, 7216 Lake Otis Pkwy, Anchorage. After the services, Becky will be transported to South Carolina for burial at Pineview Memorial Gardens in North Augusta, GA with family there.
Becky was born June 19, 1954 in Seattle, Washington. She attended Houghtallng Elementary School in Ketchikan; Kamehameha Preparatory School in Honolulu, Juneau Grade School in Juneau, and Petersburg Grade School and High School. He earned her degree in Anthropology from the University of California-San Diego.
Becky was employed at the Smithsonian Institute in Washington, D.C. performing identification of Alaskan Native Artifacts. She also was employed as a Cultural Instructor with Holland America Cruise Lines and was a Commissioner in the Department of Administration with the City of Juneau.
She was a member of the Baha'I and the Methodist faith
She enjoyed native artwork including Tlingit blanket making; spending time with Elders and Family; world travel, and being a pilot.
Mat Baumgartner wrote: " Aunty Beck was never shy about expressing her love for all of us in the family"-
Her son, Zanjan wrote " About Mrs. Rebecca Rawlinson (Alaskan Tlingit Wooshkeetaan):
My mother is the embodiment of overcoming a diversity of life's challenges with Alaskan Tlingit Strength and Honor till her death (cancer). My mother lived a full life of important local/international milestones for Native American Women; most notably, she traveled around the world as the first delegation of Native American women who met with leaders, Kings and royalty to promote peace, harmony and mutual cultural respect - South America, Samoa, and so much more.

She is a passionately loving Auntie to all her nephews, nieces and relatives and a loving wife in her formative years to her husband (Kevin Rawlinson).

Her passion for travel, cultures, overcoming challenges, and more served as a strong source of inspiration/bedrock to her one and only son, me, Mr. Zanjan Fromer (www.Zanjan-Fromer.com). As a child, my mother took me on many adventures to promote and foster hope for "Global Peace" across Alaska, Canada, etc. My mother's life-example of resilience for the "Greater Good" became my own operational methodology that I used in my overseas humanitarian/transitional development works; which led to many overseas successes. As of today, I have over a decade of international achievements, recognitions and awards; the first American/Alaskan Tlingit Wooshkeetaan in Mongolian History to be awarded the country's 2nd Highest Medal of Honor - "The Ministerial Gold Star of Leadership", numerous recognitions by National Geographic Society and much more.

My mother served humanity beyond paperworks and degrees - she served as my "first teacher". It was my mother's example, leadership and exemplifier of what Native Americans can achieve regardless of the diversity of challenges that became my "source" of Tlingit Strength and Honor. My mother's life-example continues to be my guiding-light that manifested itself within all my overseas works/achievements for past 8, 200+ days (22+ years).
Across the world - my mother was and remains "the cultural key" in establishing today's overseas successes; as without local acceptance, today's achievements would have never been possible. Other overseas rural/tribal cultures accepted me more than others as they quickly identified with my mother's photographs; my mother physically looks as they do and were greatly inspired by her achievements as an Alaskan Native Tlingit Woman - they saw my mother as one of their own.
My mother inspired my own growth by her countless deeds, actions and sacrifices before I departed overseas.

Rest Well Mother - love your son who has always been proud and honored.
Becky is survived by her husband, Kevin; son, Zanjan Fromer; sisters, Andriana (Don) Moss; Leimomi (Robert) Martin, Lucy (Yochanan) Johns, and Zenith Brown; nieces, Zeta (Joe) Montes, Cheyoko Baumgartner, Natasha (Oscar) DeGruy, Hattie Baumgartner, Naomi (JaraL) Michalsen, Alex L.R. Moss, Zaynab Irish, Unity Taylor, Emerald Fuimaono, Chandler Brown; nephews, Mathew Baumgartner, Daniel Irish, Jerry Irish, and Milo Irish; many cousins including Tina Sakamoto, Marcia Hansen, and Tim Hansen, great and grand nephews and nieces.
Services
Service
Alaska Cook Inlet Funeral Services
1155 E 70th Avenue
Anchorage
,
AK
United States
99518