Pat McGee Obituary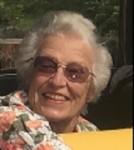 February 12, 1927
-
January 21, 2020
Born in Boise, Idaho
Resided in

Anchorage

,

Alaska
Obituary
Pat McGee's adventurous life ended when she died peacefully at her home surrounded by her family on Jan. 21, 2020, at age 92. She was a compassionate and helpful friend to many during her 72 years in Anchorage, Alaska. Pat was a confident feminist from birth but didn't know it until the '70s. It never occurred to her that she couldn't do something. She liked everyone and everyone liked her. Pat had a beautiful smile and a ready laugh. She was fun.
Pat was raised on an isolated subsistence ranch in southwestern Idaho and spent her early years working outside with her brothers and father. The family had a young woman boarder, so Pat never learned those skills then called "woman's work" like cooking and sewing. Her children regarded her cooking as dreadful and celebrated the arrival of "Hamburger Helper" on the grocery shelves in the '60s. For years she used a can of asparagus soup to threaten any complainers. Her eldest son was delighted with the food in the Army.
During the war she served alone on the fire tower on Trinity Mountain, Idaho, where she was pleased to be constantly buzzed by bomber pilots in training. She later quit college to learn to fly at 17, and pursued a love of aviation for the rest of her life.
Pat met her future husband, Guy McGee, who had been severely wounded in the defense of Wake Island and had survived nearly four years as a Japanese POW, when he returned home to Boise. For their first date Guy persuaded her to fly them to Moscow from Boise for his university's homecoming football game. They married and then drove the Alcan Highway to Anchorage in 1948. Guy and Pat loved Alaska and Alaskans and never considered leaving.
Pat was a charter member of the Alaska 99s - an international women's flying organization - and enjoyed her son's "family airplane" for more than 50 years. Though a distractible driver, she was an excellent pilot.
Guy and Pat raised their children in Susitna View Park, where all children were under the subtle but constant monitoring of neighborhood moms. After the 64 quake destroyed many of the surrounding homes, she invited two other families to stay for months in their mostly intact house on Tulik Drive.
Pat was devoted to animals and raised several generations of Shetland sheepdogs and tabby cats with Guy and her young children. Later, their 5 acre homestead near Campbell Lake had horses, burros, chickens, geese and sheep, as well as dogs and cats.
Pat believed in travel and served for more than 30 years as the president of the Anchorage Hostel, which provided cheap accommodation for backpackers from all over the world. That downtown hostel is now named the McGee Building. For many summers she ran a "Bed and No Breakfast" on the main street of Talkeetna, Alaska, where she welcomed climbers and other US and international travelers. Pat loved the town and its many intriguing residents. She refused to raise the room and bunkhouse rates for years, supposedly because of the cost of reprinting the brochure, but really because she had little interest in profit.
Pat was an enthusiastic community volunteer and not shy about recruiting others to good works. Somehow, her lack of guile, "sophistication," and any self-interest was powerfully persuasive in her many campaigns. She was always busy but rarely stressed.
Pat was cheerfully persistent and creative in all her activities. When she forgot an ax on a Christmas tree search she used her .300 Savage rifle to blow down the chosen tree. She had a sequential phone number because she told the phone company her children were a term now regarded as disrespectful.
Pat was engaged in the world, traveled widely and truly never met a stranger. She was curious about everyone and loved nothing more than conversation. Her travels as a census worker in rural Alaska gave her an appreciation for Native culture and generations of the people she met then stayed at her home when in Anchorage.
Pat despised lying and hypocrisy and bragging. On her last day she smiled when her daughter told her Trump had been sent to prison.
Her proud and grateful children, all now in their 60s, have never been indicted.
Pat is survived by her children, Brant McGee of Anchorage and elsewhere (Riley McGee, Philomena Hausler and Katy Barloon), Kirk McGee of Anchorage (Ravynn Nothstine, Jeremiah Fender, Rebecca, Michaela and Amanda and Marilyn McEvoy) and Kim McGee of Anchorage (Venable Vermont, Keir and Ari) and Kelly McGee of Cornelius, Ore. (Martha). She is also survived by many dear friends in Anchorage, Talkeetna, and around the world.
The family wants to thank, for their generous kindness and support, Dr. Michael Jones, Dr. Daniel Tieva, Providence Hospice and the wonderful Beth, and the loving care of Cynde and Laura of Home Instead for which we are ever grateful, and Rachel Maddow.
Due to the COVID-19 virus, A memorial celebration that was planned be held in Anchorage, at St. Mary's Episcopal Church is postponed at this time. Another service will be held in Talkeetna.
To plant a tree in memory of Pat McGee, please visit our
Tribute Store
.
Services
To plant a tree in memory of Pat McGee, please visit our Tribute Store.