Ophra Harnish Obituary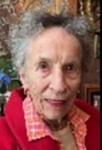 March 11, 1929
-
February 7, 2021
Born in Lancaster, Pennsylvania
Resided in

Anchorage

,

Alaska
Obituary
Orpha J. (Graybill) Harnish covered many miles during her earthly life that led to her heavenly home on Feb. 7, 2021. She has met her faithful Lord and joined once again with her dear mother. She was the ninth of 10 children of Henry and Lena Graybill, growing up in Lancaster County, Pa. She had the benefit of rural farm life with associated family businesses. Orpha and Henry W. Harnish were married during his second year of college. They enjoyed 38 years together, living in Goshen, Ind.; Des Moines, Iowa; and Tulsa and Enid, Okla. Orpha worked as a medical secretary and medical records librarian while Henry went to medical school. Upon receiving his D.O. degree, they moved to Tulsa. They were the happy parents of one daughter, Orpha Jill. Orpha fenced; she was a member of the Oklahoma Team at the Pan American Games in the 60s. Orpha was an enthusiastic supporter of the Olympic movement, seeing it as an ideal method toward world peace and friendship.
Orpha was a stay-at-home mother, believing that motherhood was the highest calling. She became a board member and/or president of Glasshouse Gardeners, Tulsa Garden Club, Questers, PEO, Enid Symphony Association, Enid League of Women Voters, YWCA, National Association of Parliamentarians, Tulsa Opera and The Guild of Tulsa Opera, Opera Volunteers International, and president of local, state and national Auxiliary to the American Osteopathic Association. Her ten-year effort to achieve equal classification of osteopathic medicine with allopathic medicine as "science and medicine" by the American Library Association, and getting the Library of Congress to approve the change (1981), resulted in receipt of the Millennium Award in 2000. She was a member and elder of First Presbyterian Churches of Enid and Tulsa.
Orpha moved back to Tulsa in the late 80s, and enjoyed continued learning, mentoring, volunteering and fundraising for many of her passions, and the fine arts Tulsa offers with many friends. The pandemic, superimposed on independence-robbing macular degeneration, prompted Orpha to move to Alaska and live with Jill and Tim. She continued to learn and enjoy her iPad, and appreciate fine meals, desserts, coffee chats, cherished phone calls and an occasional outing. She maintained a daily walking and exercise routine until a few weeks prior to her death of natural causes.
Orpha is survived by her daughter, Orpha Jill Lawrence (Mrs. Tim) of Anchorage, Alaska; sister, Eunice Enck (Mrs. Jesse) of Sanibel, Fla.; half-sister, Marie Hoover (Mrs. Levi) of Denver, Pa.; as well as many loved nieces and nephews. Her husband of 38 years; her sisters, Mary Schantz and Lois Dagen; and her brothers, Mervin, Paul, Arthur, Noah, Omar and Jacob, preceded her in death; as well as several beloved nieces and nephews. A memorial service will be held in Tulsa in the future when gathering in person is possible.
Memorials may be made to The Enid Symphony Orchestra, 301 West Broadway, Enid, OK 73703; the endowment fund of The Guild of the Tulsa Opera, 1610 South Boulder Ave, Tulsa, OK 74119; and/or the Music Ministry (Organ and Chancel Choir) of First Presbyterian Church of Tulsa, 709 South Boston Ave, Tulsa, OK 74119.
To plant a tree in memory of Ophra Harnish, please visit our
Tribute Store
.