Nancy Stegehuis Obituary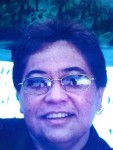 May 25, 1956
-
March 24, 2018
Born in Hawaii
Resided in

Anchorage

,

Alaska
Obituary
Nancy Moana Stegehuis, 61, returned home to our Heavenly Father on March 24, 2018 in Anchorage, Alaska after a long illness. A Celebration of Life will be held on Saturday, April 15th.
Nancy was born on May 25, 1956 in Honolulu, Hawaii to George Stegehuis and Nancy Auga Stegehuis.
George and Nancy moved to the Big Island and settled in Napo'opo'o, a remote fishing village. As a toddler until the age of 9, Nancy enjoyed living with the ocean as her front yard and the mountains behind her. Nancy's fondest memories growing up there were playing in the cow pasture, building forts in the bushes, swimming every day after school, watching the fishermen come in at the end of the day with their canoe's filled with fish and getting into trouble with the neighborhood kids. Yes, Nancy was a tomboy!
At the age of 10, Nancy and her family moved to Kailua-Kona just blocks away from the beach. She enjoyed spending time at McIssac's Beach, Saturday Root beer Floats with her family, attending Mokuaikaua Sunday School, diving off the Kailua Pier, playing baseball and hanging out with her gang. She attended Kailua Elementary School where she was considered the toughest girl in the school in spite of her young age. Even then, she was a protector of those who could not protect themselves. Nancy attended Konawaena Intermediate/High School where her reputation preceded her. No one messed with Nancy's OHANA or circle of friends!
Nancy moved to Alaska in the 1980's to work for Trident Seafood on a processor boat. She had many friends follow her move to Alaska to get a new start. Nancy loved working on cars and was an excellent auto mechanic, earning her mechanic's license in Seward, Alaska. She was so knowledgeable about cars that she could diagnose problems by sound. In her spare time, she loved to play softball, her favorite position was catcher. She was also a master griller and enjoyed cooking for family gatherings.
Nancy and Ruth's love for camping and BBQ's, lead to many adventures along the coast of the Big Island b Nancy loved a great gathering with friends and family where she showed off her grilling skills. We have fond memories of cousin Joe and his tribe spending the summers in Kona with us and the kids going to the beach swimming every day. Life was simple with Nancy, she loved to tell me "If can, can. If no can, no can". When she found a shirt that had this saying on it Nancy could not resist and bought it. Nancy always was thinking of others. Her family was #1 First and foremost! To have known Nancy was to love her. Nancy had a love of history and enjoyed learning all she could about a person or event. Nancy was articulate and well-studied. She prided herself with knowledge od past and present events and about everything from cooking to building an engine.
Nancy was one of the kindest people you would ever meet. She was a leader, protector of children, and she loved her family fiercely. Nancy loved children and raised many as her own who called her Nana or Auntie Nancy. Her unconditional love for her family was very strong and was revered by others. Her heart was huge and generous; she believed in the people that nobody else believed in and she would not let anyone go without if she had anything to do with it.
Nancy love for her children was undying. All the children she raised have been blessed to have had her but none as much as her Nui Nui. Their love for each other was so sweet to see. Nui gave Nancy the strength to keep going for as long as she did. Nancy fought all the way to the end in hopes to spend more time with her family and her little me "Nui".

She is preceded in death by her father/dad George Stegehuis and her brother Dean Stegehuis from Kailua-Kona. She is survived by her mother Nancy Auga of Kailua-Kona; sisters Colleen Figueroa of Vancouver; Diana (Mahealani) Pai and Jan Stegehuis of Kailua-Kona; Donna Asher; Janet Summers; Rhonda Remillard, brothers George (Keoki) Cipriano and Steven Davis; bio father Albert (Maddy) Asher of Alabama; her companion Ruth Oliver; her children Lawrence JR Jordan, Terry (Amber) Santos, Kemukisa Sale, Maava (Lynn) Fuatagavi Jr., Adam (Taryn) K Jr., Ashley Lindsay, Keola Lindsay, Malosi Steghuis, Kawai (Puna) Kaaiai, Kanakaleonui (Nui) Lindsay and many grandchildren, nieces, nephews, cousins and friends who loved her dearly.
Services
Funeral Home
Cremation Society of Alaska
7216 Lake Otis Parkway
Anchorage
,
AK
United States
99507