Michael Dozette Obituary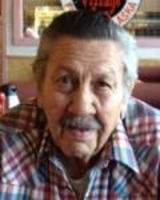 March 10, 2013
Resided in

Anchorage

,

Alaska
Obituary
Michael Dozette, 83, lifelong Alaskan resident, died on March 10th, 2013 at Alaska Native Medical Center after a short bout with Pneumonia. Mike was born in Nenana Alaska on May 18th, 1929 to Louis and Nina Dozet. Along with his siblings, he attended the BIA school in Eklutna and then in Fairbanks. His family lived in Nenana and Healy and then Fairbanks. He enlisted in the Army in 1951 and for two years was stationed at Big Delta in the Army Test Branch. He was active reserve for five years after that. He met and married the love of his life, Gloria, in 1957 in Fairbanks and together had three children. They lived in Fairbanks until 1967 when the flood destroyed the family home and then moved to Anchorage. They were married for over 51 years.
He was one of the originators of the Yukon 800 Marathon boat race in Fairbanks. Along with 5-8 of his friends, they planned to have an annual race starting in Circle and refueling in Tanana. Back then they used 40 cc engines and they used to call them "Galloping Gerdies" they were the roughest of boats. Today this race still runs every year on Summer Solstice in Fairbanks. He also used to race Hydro boats at Lakeview Gravel pit and on the Chena River. Mike had many adventures throughout Alaska, he owned his own Construction Company, worked for BIA as a Project Director, was an honorary member of the Teamsters Local 302 with over 50 years of membership, and operated a gold mine for over 20 years every summer. The Gold Mine was the adventure of a lifetime for him and his friends. Mike had so many lifelong friends who together they had the best of times. He lived his life the way he wanted to live.
He is survived by his three children, Timothy Dozette, Teresa Ackers, and Corinne (Richard) Jones; three grandchildren and four great grandchildren; his brother William Dozette and sister Helen Dunlap and many nephews and nieces. He was preceded in death by his parents Louis and Nina; sisters Laura, Dorothy and Debra; wife Gloria, and grandson Adrian Beaver.
A small family gathering is planned at the family home on March 17th 2013 at 2 p.m. There will be a celebration of life at the Time Out Lounge in Anchorage on April 13th, 2013 at 2 p.m. and at the Boatel in Fairbanks on June 22nd, 2013 at 2 p.m. A traditional potlatch will be planned for a later date. Arrangements are being handled by the Cremation Society of Alaska.
To plant a tree in memory of Michael Dozette, please visit our
Tribute Store
.