Marilyn Skau Obituary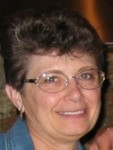 January 5, 1946
-
November 24, 2019
Resided in

Anchorage

,

Alaska
Obituary
Marilyn Kay Skau (Hesterberg) died in her beloved home of Anchorage, Alaska on November 24, 2019. Marilyn was daughter of Norma Schwarz and Orval Hesterberg and attended schools in Hoxie, Kansas where she resided for most of her childhood.
After graduating high school, she attended nursing school in Dodge City, Kansas and received her LPN (licensed practical nurse) degree.
She married Douglas Klann on March 20, 1966, and to this union two boys were born, Michael Cameron and Mitchell Scott. From 1966 to 1972, Marilyn lived and raised her family in Northglenn Colorado. In 1972, they moved from Northglenn, Colorado to northeast of Arriba, Colorado where they lived for two years until buying and moving to a farm north of Flagler, Colorado in 1974.
Marilyn was very involved in activities involving her two boys and in her community. She served as a Den Leader for the Boy Scouts of America, volunteered in many school functions and was on the Flagler School Board and was named Farm Wife of the Year, a tribute to her bookkeeping skills and role on the farm. Marilyn shared her love of books with her sons and even had a library in the ranch house that she designed. Marilyn was interested in many different collections and crafts, some that she shared or involved her two sons. Marilyn and Douglas were divorced in 1984.
Marilyn moved back to the Denver area residing in Westminster where she enjoyed working for the Department of Agriculture. It was during this time that she visited her lifelong friend Shirley Larson and fell in love with Alaska. Marilyn met Neal Skau on June 14, 1989. They were married on the same date 10 years later June 14, 1999. Neal shared Marilyn's interest in genealogy, and both were involved in the Foothills Genealogy Society. Marilyn and Neal were divorced in 2006.
Marilyn moved to Anchorage, Alaska in 2006 and resided with her best friend, Shirley Larson and her husband Jerry, for a period before buying property there. Marilyn's love for Anchorage held no bounds. In the past 10 years one achievement which was dear to her heart was being co-chairman of the Charlotte Jensen Native Arts Market during the Fur Rendezvous. She had an admiration for the native population and stayed very connected with them which made her a good match for the job. One of Marilyn's most cherished spots on earth was Beluga Point into Turnagain Arm where she made it known she would want her ashes to be spread.
Marilyn was preceded in death by an infant brother, her parents and uncle. She is survived by Linda Dean, Alice (Howard) Smith and Galen (Lynn) Hesterberg; children Michael and Mitchell Klann; grandchildren Cameron, Kyle, Katelyn and Mason Klann; and survived by 6 nephews and 1 niece.
To honor her memory, the family requests donations in her name sent to Abused Women's Aid In Crisis (AWAIC) at 100 W 13th Avenue, Anchorage, AK 99501 or go to www.awaic.org/donate where there is a comment section and you are able to honor her memory. Should you need to reach a family member, her son Mitchell Klann can be reached at 602-615-3365.
To plant a tree in memory of Marilyn Skau, please visit our
Tribute Store
.