Margaret Johnson Obituary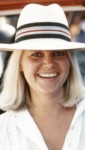 September 7, 1947
-
May 31, 2020
Born in Superior, Wisconsin
Resided in

Anchorage

,

ALaska
Obituary
Margaret Hazel Johnson died on May 31, 2020 at Providence Alaska Medical Center from idiopathic pulmonary fibrosis, an incurable lung disease for which she had been receiving treatment for six months.
The first of six children, Maggie was born on September 7th, 1947, in Superior Wisconsin, to Floyd R. and Hazel Rantala Johnson. After her father received his Forestry degree from Michigan Technological University, the family moved to Idaho, where he started his forestry career.
Her first international travel came as the family moved to Bandar-Anzali, Iran in 1961 when her father was on a team of Iranian and American engineers who developed logging roads and a sawmill in the Talesh Forest. Maggie made friends with young Iranians, learned about local customs, and explored the nearby Caspian seacoast. Returning to the US, the family made stops in Denmark and Norway and visited relatives in several towns in Finland.
After moving to Anchorage in 1963, Maggie attended East Anchorage High School, where she played flute in the band and was on the rifle team. She graduated in 1965 from East and earned her BA in Visual Arts and Literature from Alaska Methodist University in 1969.
Married to John Firmin in 1969, Maggie lived in Berkeley, CA while also traveling extensively. The couple divorced in 1981. After a whirlwind eight-year courtship, she married Jim Cucurull in 1990, and this union lasted her remaining thirty years.
The word "singular" can only begin to describe Maggie. She was a world-traveler, arts advocate, journalist, road-manager, artist, musician, anthropologist, historian, gourmet chef, seamstress, gardener, daughter, sister, and aunt. She was a devourer of books, magazines, newspapers, music, theater, architecture, and art of all types and would travel great distances to experience new performances and exhibits.
Maggie's work experience was also multi-faceted. She worked for the State Arts Council, Anchorage Arts Council, the Anchorage Museum, the Visual Arts Center of Alaska, and was instrumental in the launch of the Anchorage Performing Arts Center. After many years of writing music and arts reviews for the Anchorage Daily News she landed her dream job as full-time arts writer and critic for the Anchorage Times. Among other duties Maggie worked as a personal manager for an internationally renowned singer and as an event and club manager with her business Kamikaze Productions.
During her career Maggie received many awards as well as numerous recognitions for her work with the Municipality of Anchorage, including her work on various boards and commissions. Her notoriety was present in other ways, such as writing and producing (under her "Red Sweater Records" label) a 45rpm punk-rock record that charted at No. 5 on New York's WNEW radio station and was named by Greil Marcus as a runner -up for single of the year in 1980. For some time Maggie continued to receive incredibly small BMI royalty checks which she felt were simply too funny to cash.
Although thoroughly qualified to write and converse about art and design, Maggie was herself an incredible artist and designer. Many felt this should have been her primary occupation. She could see things others couldn't and could create incredible works of art from nothing more than loose scraps of paper, pen and pencil. Her perfect block lettering and other flourishes made even small designs and post-it note quips coveted treasures.
This artistic vein was also present in Maggie's keen eye for enduring fashion and style. Being raised in the absence of wealth she learned how to make her own clothes - from Vogue patterns no less - and at an early age. Her love of texture, color and detail could be seen in her complicated yet delicate embroidery and fabric works.
Fond of creating "clubs" for the nieces, nephews, and children under her care - she herself had one group membership she treasured more than most - and that was her status as scribe for the Bibliobabes book group. Another great love was spending time with her sister Ellie and lifetime friend Gwenn at her family's homestead at Chickaloon, in the cabin overlooking Castle Mountain, and in the Finnish-style sauna, both built by her late father. It was there she put her Camp Fire Girl achievements to greatest use.
More than anything Maggie was a humanist, which she extended to the tenet of compassion for all living things. She was quick to strike up a conversation with anyone, be they age zero or age one hundred. She was talkative, but knew how to really listen and the reporter in her made sure she captured all the nuance and detail of each story she encountered.
Maggie was predeceased by her father Floyd in 1986, her mother Hazel in 2016, and her sister Sara in 2015. Maggie is survived by her husband Jim Cucurull of Anchorage, and her siblings Willie (Jennie) Johnson of Chickaloon, Martin Johnson of Anchorage, Ellen (Brian) Burnett of Girdwood and Louise (Mike) Lane of Anchorage and nieces and nephews Maija Katak (Dean) Lukin, Saima (John) Chase, Elsa Johnson, Martha Rosenstein, Summer (Robb) Thomas, Luc Johnson, Nils Lane, and Jani Lane and Suzanne Ward, as well as many wonderful friends.
Maggie will be interred in the Anchorage Memorial Park Cemetery and at her request no services are planned. In lieu of flowers, her family requests that donations be made in Maggie's name to the cause or charity of your choice. Arrangements for Maggie's remains were made by the Cremation Society of Alaska.
To plant a tree in memory of Margaret Johnson, please visit our
Tribute Store
.