Leo Hannan Obituary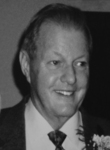 Leo J Hannan
May 1, 1930
-
May 16, 2015
Resided in

Anchorage

,

AK
Obituary
Col. Leo John Hannan was born May 1, 1930 in Newburgh, NY, celebrating his 85th birthday with grand children and family. He died peacefully at home in Anchorage on May 16, 2015, following a long illness and recent stroke. A military service will be held June 24, 3:00PM, at the Ft. Richardson National Cemetery (JBER/Richardson exit off the Glenn Hwy). There will also be a Celebration of Life reception at the Bayshore Club House, 3131 Amber Loop, from 6:00 to 9:00 PM.
Leo graduated from Columbia High School, Richland, WA, and attended Central Washington College in Ellensburg before joining the Army. He served in Korea, 1952-53: 25th Infantry Division, 5th Regiment Combat Team. In 1963, while working for the Hanford Atomic Plant in Richland, he was recruited by the USAF as a Honeywell technician on all the Alaska radar sites. Leo loved Alaska and never wanted to live anywhere else. He was married to his first wife, Kathleen, for 43 years before her death, spending many weekends at his Kenai Lake cabin with their three children, Ellen, Sara, and Jane Hannan, now grown. Leo's ashes will be scattered later at Kenai Lake. Cremation arrangements were made by the Cremation Society of Alaska; www.alaskacremation.com.
In 2000, Leo married Norma Griffith Childs Lepak, an ASD teacher. Her grown children, Marc, Robin, Joe Childs and Kim Paul enjoyed many holidays with Leo's family. Leo and Norma shared six fantastic grand children, ages 3 to 24, and all of them called Leo "Grandpa." They are Aimee and Melissa Castle, Tyler Gillam, Cade, Colt and Calie Morgan. They especially liked all the costumes at Halloween and at the Bear Paw Festival Owner-Dog Look-alike Contests with Nugget and Katie.
Leo and Norma enjoyed many friends and favorite places: Seaters' Nikiski fish site, Daughter Robin's Kenai River cabin and Anchorage home, Leo's Kenai Lake cabin, Christmas Eve with neighbors, Arctic Road Runner burgers, Ellen Hannan's Craig family, Sara Hannan's Juneau family, Joe and Marc Childs and spouses in HI, AK, and WA, Kim Paul in Hatcher Pass, and adventure travels in Katmai, Australia, Glacier Bay and Mexico .
Leo's accomplishments were awesome! He was an avid mountain climber; he attempted Denali in '67 via the Pioneer Route, hiking from Wonder Lake and in '69, via the West Buttress Route . He was a founder of the Alaska Mountain Rescue, was on National Ski Patrol, past President of Nordic Ski Club and the Alaska Prospectors' Society, he was on the Alaska Veterans' Museum and 35+ Dance Club Boards, member of the Anchorage Sr. Center, Pioneers of Alaska, Alaska Territorial Cavalry, and Chugach Gem and Mineral Society. He was a Civil War historian. For five years, Leo role-played Col Frederick Mears (ARR builder) with Norma as wife, Jane Mears. Thousands of ASD students came to the Pioneer School House to learn about Anchorage in 1915, the train and the first school. Sponsors were the Anchorage Woman's Club.
Leo is survived by his wife, Norma Hannan, her children, Mark Childs (Carolyn); Robin Childs (Bruce Morgan); Kim Paul (Tyler) and Joe Childs (Kathy); Leo's daughters: Ellen Hannan (Brian Castle), Sara Hannan (Mark Stopha), and Jane Hannan; Leo's sister, Edna Finch, NC, and cousin, Bob Hannan (Sue), VA, and six grandchildren.
In lieu of flowers, donations can be made in Leo's memory to
Alaska Veterans Museum, PO Box 773364, Eagle River, AK 99577 or Friends of Pets, PO Box 240981, Anchorage, AK 99524 or the Salvation Army, 143 E Ninth Avenue, Anchorage, AK 99501
To plant a tree in memory of Leo Hannan, please visit our
Tribute Store
.
Services
To plant a tree in memory of Leo Hannan, please visit our Tribute Store.
Cemetery
Ft Richardson National Cemetery
Service
Bayshore Club House
3131 Amber Loop
Anchorage
,
AK