Horst Poepperl Obituary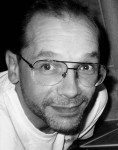 August 10, 1964
-
April 13, 2018
Born in Germany
Resided in

Anchorage

,

Alaska
Obituary
Horst Uwe Poepperl, Data Network Engineer "Extraordinaire" and CEO of Borealis Broadband Inc. transitioned to his next adventure on April 13, 2018 at the young age of 53. He was born on August 10, 1964 in Ruwer Germany to Hiltrud and Horst Poepperl. He joined the US Airforce in 1984 and was stationed in Tucson AZ, a path that ultimately led him to Alaska to visit his beloved (and only) sister Andrea Rogers. Ten years after his move he met the love of his life Sandy (Sherwood) Poepperl. Together they shared a loving relationship that will last forever.
Horst was a man of many talents. He wrote music and played the guitar and drums. He enjoyed computer gaming, painting, riding his motorcycle and taking his boat out on local lakes. His love of life extended to his animal friends and he adored his cats and dog. Mort the cat worked hard at ridding him of his addition to cigarettes and would frequently steal them from him! He loved to cook for friends and family and was a connoisseur of the culinary arts.
As a natural entrepreneur, Horst founded two successful businesses in the IT communications field, Spectrum Wireless and Borealis Broadband Inc. He was a ground-breaker, bringing the first wireless internet service to Alaska. His constant focus on high quality customer service and delivery of innovative technologies made him highly respected by his customers and the business community at large. Horst was a fierce proponent of customer privacy protections and testified before the legislature on measures to advance the protection of personal information on the Internet.
Horst was best known for his ability to win over people from all walks of life with his charming, patient personality and quirky sense of humor. Horst's personal philosophy is captured in his favorite saying: "Do something good today." Close friends knew him as a highly evolved, spiritual individual. He lived his life with a firm belief that we reap what we sow and that our spirituality is reflected through the lives that we touch. His friendship blessed those who were fortunate to know him.
The unifying characteristic of Horst was his passion for opening the lines of communications in all facets of life through interpersonal relationships, technology and spirit. Generous of his own time and energy, he lifted all those who knew him to realize their own potential. Like the ripples created when a stone is thrown into a pond, the effects of his kindness and compassion will continue through space and time.
Horst will be fondly remembered for his amazing data networking knowledge, his trustworthiness, generosity and kindness. Horst was German so he was also known to be stubborn and opinionated, yet he could also be romantic and introspective. He is deeply missed by his wife Sandy, his family in Germany, his friends, employees and customers. He also leaves behind his four legged children, Mort, Karma, Kosmo, Pickles and Ryker. His business legacy Borealis Broadband Inc. will continue to operate and flourish.
A Celebration of Life with Horst's favorite coffee and cake will be held at Change Point Church (Raspberry and Minnesota) on Tuesday May 15, 2018 at 4:00 PM.
Services
Celebration of Life
ChangePoint Church
6689 Changepoint
Anchorage
,
Alaska
USA
99518