George Rickard, Jr. Obituary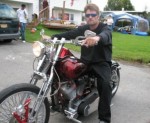 George
Leroy
Rickard, Jr.
June 29, 1973
-
February 17, 2018
Born in Cobelskill, New York
Resided in

Anchorage

,

Alaska
Obituary
George Leroy Rickard Jr passed away peacefully at home in Anchorage, Alaska on February 16th, 2018 surrounded by Family and loved ones. George had a number of different health issues that he had been fighting for many years and had overcome the odds on numerous occasions dubbing his nickname "the Miracle Man".
George was born in Cobleskill, New York on August 29th, 1973 to Father George Rickard Sr. and Mother Janice(Pleickhardt)(Rickard)Hopster. George's life began in Up State New York, and later moved with his family to North Dakota where he spent the majority of his child hood. He then returned to New York and back to North Dakota. He then moved with his Mother and Stepfather to Wyoming. In 1985 they moved to Alaska where he spent his adult life and raised his family. George attended East High School. He loved music and photography; he enjoyed installing sound systems, working on cars & trucks, loved motor cycles, classic cars, shiny things, Slim Jims and Slurppys.
But most of all he loved his family. He loved making people laugh he always had jokes. He used nicknames as terms of endearment, and if you had one, you knew you had a piece of his heart. He always had a knack for helping people and tried to make the best out of any situation. If you were lucky enough to have known him, he likely made you laugh, helped you with anything that you needed, probably caught you off guard or made your jaw drop a time or two with his unique sense of humor or his brutally honest opinion or the fact that his filter was minimal at best.
George worked at Riggs Towing and Recovery as a tow truck driver and dispatcher for many years, the people that he worked with were like family to George, at his side until the end. As he would say, "It is what it is till it isn't any more". Family was not just about blood it was about love and being present in that person's life.
George had a few cherished friendships and to him, those people were more than just friends, they were family . He will leave behind countless people who will lovingly call him Son, Brother, Husband, Father, Uncle, Nephew, Cousin, Family, The Baby Whisperer, but all will call him Friend. He was loved by many and will be deeply missed.
George is survived by his wife Georgena Coleman, aka "The Cake" who was endlessly at his side no matter what circumstances life had thrown at them , Daughters Sadena Coleman and Liondradanae Coleman, his grandson Kaebryn "his little super hero" and his faithful "Stupid Dog" Chunk.
His Mother Janice Hopster ,Step Father William R. Hopster, His Older Sister Kristina Rickard and Brother In- Law & Friend Philip Aguilar, Nieces Brianna Rickard, and Kasey Curtin, Nephew Tyler Rickard ,Great Nieces Kaylee, Olivia, & Harmony Rickard, Sister Jeannette Green, Niece Daphne Green, Nephew Donovan Green, Brother William M. Hopster, Sister Angela Swigart , and Brother In- Law Tom Swigart.
George's North Dakota family Consisted of His Father George Rickard Sr. ,Step Mother Beth (Place) Rickard, Grandmother Ramona Place, Sister Debbie (Rickard) Reindel Brother In-law Ryan Reindel, Niece Kadence Reindel, Nephew Kaleb Reindel Sister Mina (Rickard)Pedersen Nieces Ellianna and Adeline Pedersen from North Dakota.
Mother In-Law Maria Coleman and Father In-Law George Coleman, Sister In Laws Leila, Tresia, Rikki, & Rrita Coleman Nephews Johnathan, Darian, Jessie, Clayton, Jesus, Lorenzo, Luigi, Blue, Kaylub, Tatum, and Lyric Coleman Nieces' Aaliyah, Milly, Bella, and Lilly Coleman.
George also has an extended family of Aunts, Uncles and Cousins throughout Alaska, Arizona, New York, North Dakota and Wyoming. George was preceded in death by his Grandmother Anna May (Watson) Rickard, Grandfather Howard J. Rickard, Grandfather Herbert Place, Nephew Ruben Pedersen, Grandmother Lucile Hopster, Grandmother Delores R.(Warwick) Pleickhardt, & Grandfather Joseph Pleickhardt, Brother in Law John Curtin Sr., Nephew Johnny Curtin Jr.
A Celebration of life will be held at the Bayshore Club House Sunday March 4th 2018 from 2-5 pm. Contact info for George Rickard Po Box 230184 Anchorage Alaska 99523. A donation fund has been set up for George's family.
Services
Celebration of Life
Bayshore Clubhouse
3131 Amber Bay Loop
Anchorage
,
Alaska
United States
99515