Frances Macon Obituary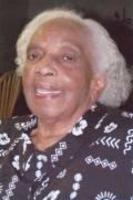 October 21, 2013
Resided in

Anchorage

,

Alaska
Obituary
Frances Alverta Macon went to take her place in the Celestial Choir on October 21, 2013.
Frances was born on August 11, 1926 in Bakersfield, California to Virgil Henry Adams and Dizzy Poole Adams.
In 1946, Frances united in marriage with John Macon. From that union, she was blessed with five children: Doneen, Bibiana, Cheryl, Flabiano and Dawn.
Frances moved to Anchorage, Alaska, in 1952, joining her husband, who was in the Army. She was very active in her community. In 1953 she co-founded the Gloomchasers, an organization that coordinated and hosted social activities and charity events for African-American families new to Alaska. Frances was a gifted-songstress who was chosen to represent all Alaskans when she sang 'The Alaska Flag', Alaska's state song, before President Nixon. In 1961 she became the first African-American employed by Anchorage Police Department. In the 1960's she founded a camping program for underprivileged children. In 1971, Frances was appointed an original commissioner of the Youth & State Government Commission. From July 1973 through December 2011, Frances was a dedicated and loving Foster Care Parent for State of Alaska. Frances was a devout member of First Christian Methodist Episcopal (CME) church for 51 years.
Preceding her in death were her parents, Virgil Henry Adams and Dizzy Poole Adams; three brothers, Virgil Adams, Harold Adams and Andrew Adams; one sister, Elizabeth Goss; one daughter, Bibiana Lee and granddaughter Lisa Macon.
Left to cherish her life are her children, Doneen Moseley; Cheryl Kinnebrew (Earnest); Flabiano Macon; Dawn Macon; Homer Tinker and Helen Ulak; god-son, Kovey Stewart; one brother Theodore Adams, Sr. one sister, Jennie Adams Stephens; seven sister-in-laws Catherine Adams; Cora Adams; Gloria Adams; Ada Dearman (Eddie); Jessie Briggs, Helen Patrick and Lucille Taylor; one brother-in-law, George Macon; 21 grand-children; 27 great-grandchildren, 7 great-great children, a host of nieces, nephews, cousins and other relatives; more than 100 foster sons and daughters and many, many friends.
Viewing will take place at Cremation Society of Alaska, 7216 Lake Otis Parkway on Monday, October 28th from 3:00 ? 7:00 p.m. A Celebration of Life will be held Tuesday, October 29th at 1:00 p.m. at First CME Church, 3600 MacInnes Street.
In lieu of flowers donations may be made to the First CME youth department in Frances' honor.
To plant a tree in memory of Frances Macon, please visit our
Tribute Store
.