Donald Graves Obituary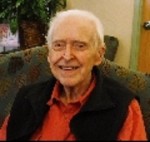 March 22, 1929
-
April 29, 2020
Born in Hood River, Oregon
Resided in

Anchorage

,

Alaska
Obituary
Donald Miller Graves, born March 22, 1929, in Hood River, Ore., passed away peacefully and with the grace he showed in his long life on April 29, 2020, in Anchorage, Alaska.
He was an Alaskan Pioneer and the son of Pioneers. His father, Lyman Graves, had been in the Territory since 1915. Lyman married Florence Miller in Oregon and they brought their young family to a Fox Farm in the Aleutian Islands in 1930. While there, Florence took ill due to bad teeth, and after a year in the Aleutians upon their return to Oregon she passed away due to the infection. Don and his sister Shirley were then left with his grandparents on a farm in Shedd, Ore. In 1943, his father took him and his sister to Seward, Alaska, where Lyman had been during the war and then moved to Anchorage to finish high school. He worked for several years for the old Alaska Road Commission as a Cat Skinner and Surveyor. He attended the University of Alaska from 1950, graduating in 1954 with a bachelor's degree in civil engineering. He spent 2 years in the Army at Ladd Field in Fairbanks and then started his career in construction management. He worked over the years for several construction companies in Fairbanks until he was Director of Construction for the University in Fairbanks and then Anchorage, where he moved in 1973. He later started his own company as a Construction Cost Estimator and Consultant, where he worked until his retirement.
While in Anchorage he had the good fortune to meet Andy (Mary Ann) Dunham and they had a loving and adventurous relationship until the end. They spent much time over the years traveling around Alaska, the States and internationally. He was an accomplished pilot, mariner, photographer, writer and poet.
He is survived by his four children, Eric Graves, Kathleen Wilson, Sheila Pennell and Gary Graves and his wife Kim Sweazy;10 grandchildren and nine great-grandchildren; and he is survived by the love of his life, Andy.
To plant a tree in memory of Donald Graves, please visit our
Tribute Store
.