Barbara Vigue Obituary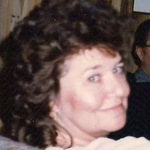 Barbara
May 2, 1935
-
May 1, 2015
Born in Seattle, Washington
Resided in

Anchorage

,

AK
Obituary
Longtime Alaska resident Barbara A Vigue, 79 died peacefully May 1, 2015 at Providence Alaska Medical Center, surrounded by her daughter and granddaughter.
Barbara was born May 2, 1935 in Seattle, Washington to John and Edith Olds. On March 24, 1952, at the age of 17, Barbara ventured to Alaska. She married Richard R. Cooper, they built a home in Fairbanks and in 1953, welcomed a son, Wayne R Cooper. They divorced in 1959. On June 28, 1962, she married "her love of her life" Budd Vigue and in 1966, welcomed a daughter, Kyana. Budd and Barbara owned the Gold Rush Saloon in Fairbanks. In 1972, they moved and bought the Cordova Hotel and Bar. Over the many years, they owned many restaurants in Seattle and Mt Vernon, Washington before returning and settling in Anchorage.
Along with owning many restaurants with Budd, She spent her time being the best mommy and grandma, her family could ever ask for. She enjoyed spending time tending to her many flowers and rose gardens at her second residence in Mt Vernon. She also enjoyed reading, traveling, writing, taking photos, shopping, helping others, having her monthly lunches with "her girls", cooking wonderful food, spending time with her family and dog, and enjoying her beloved state of Alaska, she called her home for 63 years.
Her family will miss her dearly. If you were lucky enough to have met her, to be her friend, or part of her family, you were truly blessed. An amazingly strong woman who loved with all her giving heart and unselfish soul, she gave and helped many. Her heart was bigger than her beloved state of Alaska. Her children heave heard many enduring words describing their mom over the years. But the one that stands out the most is FAMILY. She was all about her family. We are grateful, proud, blessed and very honored to have had her as our mom and best friend. She gave the best hugs, advice and love. And she will forever be in our hearts. We love you mom, the whole world full!!
Barbara was a charter member of the Fraternal Order of Eagles Aux 4207, Loyal Order of Moose 139, America Legion Aux Unit 1, a life member of Pioneers of Alaska Roll#188, and Alaskan Yukon Pioneers. In the 1950's she was a member of the Jr Women's Club in Fairbanks and was Alaska Women's Archery Champion two years in a row.
Barbara was preceded in death by her husband of 42 years, Budd Vigue; stepsons, Tommy and Kash Vigue; many friends and family members.
She is survived by her son, Wayne Cooper of California; daughter and granddaughter, Kyana and Taylor Allen of Washington; her sister, Rosemary Smith of Washington; her brother, Kendall Olds of California; five other grandchildren; seven great grandchildren; two great great grandchildren; numerous nieces and nephews; and many friends near and far and her beloved dog, Sugar.
In lieu of flowers, the family asks you make a donation to a charity you hold near and dear to your heart. We also ask that for every tear, you shed over our mom's passing, that it be followed by a laugh and sharing a great story of her.
Our mother would want us to pass on this all she left behind "Hold you loved ones a little tighter, cherish each other, make memories, be grateful and make the most of this thing called life." She always did just that.
We, the family to comfort ourselves during this most difficult time, see a beautiful image of our mom and dad together again, dancing to their song "I love you for Sentimental Reasons" It eases our pain and warms our hearts. We hope it does the same for you
To plant a tree in memory of Barbara Vigue, please visit our
Tribute Store
.